Dynamics in the History of Religions

Trying to overcome cultural stereotypes and their ideological misuse, the series "Dynamics in the History of Religions" publishs the important findings of the research by the internationally renowed Käte Hamburger Kolleg Dynamics in the History of Religions between Asia and Europe at Ruhr Universität Bochum, Germany. The volumes focus on the crucial role of mutual encounters in the origins, development, and internal differentiation of the major religious traditions. The primary thesis of the series consists in the assumption that interconnections of self-perception and perception by the other, of adaptation and demarcation are crucial factors for historical dynamics within the religious field. The series is published by Brill.
Latest Titles
 
DHR10 - Ann Heirman, Carmen Meinert and Christoph Anderl (eds.): Buddhist Encounters and Identities Across East Asia;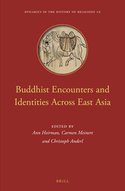 Encounters, networks, identities and diversity are at the core of the history of Buddhism. They are also the focus of Buddhist Encounters and Identities across East Asia, edited by Ann Heirman, Carmen Meinert and Christoph Anderl. While long-distance networks allowed Buddhist ideas to travel to all parts of East Asia, it was through local and trans-local networks and encounters, and a diversity of people and societies, that identities were made and negotiated. This book undertakes a detailed examination of discrete Buddhist identities rooted in unique cultural practices, beliefs and indigenous socio-political conditions. Moreover, it presents a fascinating picture of the intricacies of the regional and cross-regional networks that connected South and East Asia. It addresses all those interested in the history of Buddhism in East Asia and in East Asian Buddhist cultural practices, and anyone with an interest in the diffusion and transformation of Buddhism.

Further Titles