Dr. Walter Edward Young is no longer a member of KHK. The information given on this page may therefore be outdated.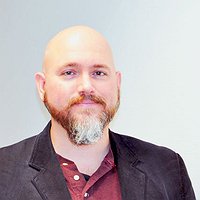 Dr. Walter Edward Young
KHK Visiting Research Fellow 2015
KHK Visiting Research Fellow 2015; former ERC Post-Doctoral Research Officer, IMPAcT, Faculty of Oriental Studies, University of Oxford, Oxford, UK
Walter Young first studied Studio and Visual Arts, Religious Studies, and Arabic (B.A.), at Hamilton College (NY, USA). He later specialized in Islamic Studies (M.A., 2006; Ph.D., 2012) at McGill University in Montréal (Québec, Canada). Between 2012 and 2014, he held research positions on two projects at the Institute of Islamic Studies, McGill University: the Post-Classical Islamic Philosophy Database Initiative (PIPDI) and the Islamic Scientific Manuscripts Initiative (ISMI). He has more recently held appointments as Visiting Fellow at the Islamic Legal Studies Program (ILSP), Harvard Law School, and as Research Officer on the ERC project Islamic Philosophy and Theology (IMPAcT), University of Oxford, before joining the Käte Hamburger Kolleg as a Visiting Research Fellow.
Walter's research interests within Islamic Studies focus on Dialectical Disputation, Legal Theory, Logic, Post-Classical Islamic Philosophy, and Codicology and Manuscript Traditions. His monograph, The Dialectical Forge: Juridical Disputation and the Evolution of Islamic Law, is to be published with Springer in the series: Logic, Argumentation & Reasoning (LAR), in late 2016; and his critical edition and parallel translation of Quṭb al-Dīn al-Kīlānī's commentary on Shams al-Dīn al-Samarqandī's treatise on the Ādāb al-Baḥth (Protocol for Dialectical Inquiry) will soon be heading to production.
As a KHK Visiting Research Fellow he will advance his current project: "Argument to the Senses in Post-Avicennian Dialectical Theory," with a view to publishing his findings as a series of articles.
Education
Ph.D., Islamic Studies, McGill University, Institute of Islamic Studies, Montréal, Québec, Canada, 2012
M.A., Islamic Studies, McGill University, Institute of Islamic Studies, Montréal, Québec, Canada, 2006
B.A., Studio and Visual Arts & Religious Studies, Hamilton College, Clinton, New York, USA, 1994
Areas of Research
Dialectical Disputation, Legal Theory, Logic, Post-Classical Islamic Philosophy, Codicology and Manuscript Traditions