Dr. Tim Weitzel is no longer a member of KHK. The information given on this page may therefore be outdated.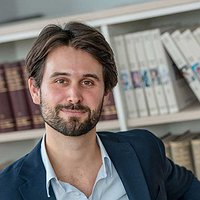 Dr. Tim Weitzel
KHK Visiting Research Fellow 2016
KHK Visiting Research Fellow 2016, Research Associate, Cluster of Excellence, Department for History and Sociology, University of Konstanz, Konstanz, Germany
Tim Weitzel completed his Magister-degree with a thesis on conceptions of crusades in the Middle Ages at the University of Münster in 2008. He was rewarded Ph.D. with his dissertation on Autorität und Kreuzzug. Studien zur Transformation des Kreuzzugsgedankens (1195-1216) (Authority and Crusade. Studies of Transformation of Crusade's ideas, 1195-1216) at the University of Konstanz in 2015.
He worked as a student assistant for Dr. Thomas Lentes in the Faculty of Catholic Theology at the University of Münster (2006-2008) and as a research associate for the Chair of History of Religion, held by Prof. Dr. Dorothea Weltecke, at the University of Konstanz (2009-2016). From 2009 to 2014, he has given lectures on various topics often related to the history of the crusades. His research foci lie in the 12th c., the transformation of knowledge and authority in the religious field, and on religious communication in interreligious perspectives.
While being a fellow at the Käte Hamburger Kolleg in Bochum, he will work on a project in which he understands religion as a communication system centred on the binary distinction between immanence and transcendence. Taking his cues from German sociologist Niklas Luhmann he will make use of this theoretical understanding in his historical work on the chancing modes of communication between God and men in premodern, European Christianity.
He researches on "Die Verfügbarkeit des Unverfügbaren. Zur Gott-Mensch-Kommunikation in der Vormoderne" while being KHK Fellow.
Education
Ph.D., History and Sociology, University of Konstanz, 2015
Magister-degree, Medieval History (Major), Political Science (Minor) und Catholic Theology (Minor), University of Münster, 2008
KHK Fellowship
Duration: October 2016 to September 2017