Prof. Dr. Susanne Lanwerd is no longer a member of KHK. The information given on this page may therefore be outdated.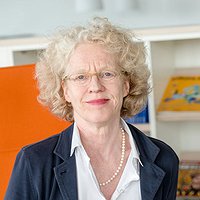 Prof. Dr. Susanne Lanwerd
KHK Visiting Research Fellow 2013
KHK Visiting Research Fellow 2013, former Scientific Co-ordniator of "Iconic Religion" (2013-2016)

From 2017 onwards she will be Professor of Religious Studies at the International Psychoanalytic University Berlin.
From September 2013 until August 2016, Susanne Lanwerd was research coordinator of Iconic Religion.
A major research focus of Susanne Lanwerd has been on secularisation and sacralisation, for instance (a) "Prozesse der Sakralisierung", a project funded by Deutsche Forschungsgemeinschaft, Humboldt University Berlin, from 1998 to 2002; (b) talks and discussions as member of Grüne Akademie (Berlin), 2005/2006; (c) academia and publications. In 1999 Susanne Lanwerd was coordinator of the exhibition "Die Sprache des Gedenkens. Zur Geschichte der Gedenkstätte Ravensbrück, 1945-1995".
From 2000 to date she has been held several visiting professorships for religious -, gender - and/or cultural studies, in Germany (Berlin, Frankfurt/O., Münster, Rostock, Frankfurt/M.) as well as in Graz and Bern. She got research grants from Free University Berlin (2004/2006) and University of Vienna (2007/2008). Susanne Lanwerd was fellow at the ZRWP (Zentrum Religion, Wissenschaft, Politik) and at Collegium Helveticum Zürich/Basel, from May, 2008 to November, 2009. Since November 2009 she is project manager of "Experimentierfeld Museologie", a research - and exhibition project on the transfer of Islamic art and cultural history (funded by VolkswagenStiftung).
Susanne Lanwerd's field of expertise covers especially the aesthetics of religion. Further interests include the history of science, gender studies, psycho-analysis as well as the history of Protestantism in the 19th and 20th century.
During her fellowship at the Käte Hamburger Kolleg in Bochum, she will be working on migratory aesthetics, iconic religion, and religions in exhibitions and museums.
Education
Dr. habil., Religious Studies, Free University Berlin, Berlin, Germany 1999
Ph.D., Religious Studies, Free University Berlin, Berlin, Germany 1992
M.A., Religious Studies, Free University Berlin, Berlin, Germany 1986
KHK Fellowship
Duration: January 2013 to August 2013; April 2017 - June 2017
Project: Migratory Aesthetics, Religion in Exhibitions and Museums