Prof. Dr. Sahar Amer is no longer a member of KHK. The information given on this page may therefore be outdated.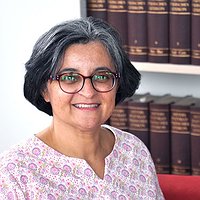 Prof. Dr. Sahar Amer
KHK Visiting Research Fellow 2019
KHK Visiting Research Fellow 2019
Professor and Chair of Arabic at the University of Sydney
Sahar Amer received her Ph.D in medieval French literature from Yale University. From the start of her academic career, she was interested in what later came to be dubbed the "Global Middle Ages", and specifically, in her case, the cross-cultural relations between the Islamicate world and France from the 12th to 15th centuries. She began her career as an Assistant Professor of French at the University of North Carolina-Chapel Hill (USA) but quickly moved to the Department of Asian Studies where she built an Arabic Department with a decidedly comparative, interdisciplinary, and longue durée focus. She has held numerous visiting appointments in the USA (Duke University, Vanderbilt University, Smith College, Centre College) and became endowed Professor and Chair of Arabic at the University of Sydney (Australia) since January 2014.
Sahar Amer's research has a large historical focus from the Middle Ages to the contemporary period. Her publications focus on gender and sexuality in Arab and Muslim societies, on comparative, cross-cultural relations between Arab Muslim societies and the West, on postcolonial identities, and on contemporary Muslims living in the diasporas and in Muslim-minority societies. She is especially interested in the notion of borders (cultural, linguistic, historical and geographic), not as elements of separation and division, but rather as fluid spaces of cultural exchange, adaptation and collaboration. She is the author of What Is Veiling? (The University of North Carolina Press, 2014); Crossing Borders: Love between Women in Medieval French and Arabic Literatures (University of Pennsylvania Press, 2008), winner of the 2009 Aldo & Jeanne Scaglione Prize for Comparative Literary Studies by the Modern Languages Association of America, and (in French) A Feminine Esope: Marie de France and the Politics of Interculturality (Rodopi Press, 1999). She has co-edited a number of volumes and special journal issues and published dozens of articles in prestigious journals. She is a recipient of several international awards, including a National Humanities Center Fellowship and a Fulbright.
Education
Ph.D in Medieval French Literature, Yale University, 1994
M.Phil in French Literature, Yale University, 1991
M.A. in French Literature, Yale University, 1990
M.A. in Psychology, Boston University, 1988
M.A. in French Literature, Bryn Mawr College, 1986
B.A. Bryn Mawr College, Magna Cum Laude, 1986
KHK Fellowship
Duration: 1 May- 31July 2019
Project: Mapping the Global Middle Ages Through Computer Simulation