Prof. Dr. Rebecca Lesses is no longer a member of KHK. The information given on this page may therefore be outdated.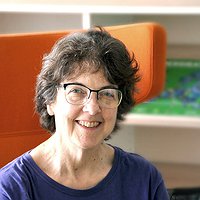 Prof. Dr. Rebecca Lesses
KHK Visiting Research Fellow 2014
KHK Visiting Research Fellow 2014 & 2019
Associate Professor of Jewish Studies at Ithaca College, Ithaca, New York, USA
Rebecca Lesses earned her M.A. (1991) and Ph.D. (1995) in the Study of Religion from Harvard University. Her doctoral studies were followed by a Mellon Fellowship at the Society of Fellows in the Humanities at Columbia University, from 1996-98, and a Raymond and Janine Ballag Fund Fellowship (Hebrew University, 1998-99). In 2001, she became an assistant professor for Jewish Studies at Ithaca College, NY, and was granted tenure and promoted to associate professor in 2010. She is also the coordinator for the Jewish Studies program at Ithaca College.
Rebecca Lesses specializes in the study of Jewish mysticism, folk religion, magic, and ritual power, the topics covered by her monograph, Ritual Practices to Gain Power: Angels, Incantations, and Revelation in Early Jewish Mysticism (published 1998). Her latest article, "The Most Worthy of Women is a Mistress of Magic: Women as Witches and Ritual Practitioners in 1 Enoch and Rabbinic Sources," will be published in fall 2014 (in: Daughters of Hecate: Women and Magic in the Ancient World). During her fellowship with us, Rebecca Lesses will be working on a project entitled Angels' Tongues and Witches' Curses: Jewish Women and Ritual Power in Late Antiquity.
Education
Ph.D., Study of Religion, Harvard University, Cambridge, Massachusetts, USA, 1995
M.A., Study of Religion, Harvard University, Cambridge, Massachusetts, USA, 1991
B.A., Study of Religion, Harvard University, Cambridge, Massachusetts, USA 1985
KHK Fellowship
Duration: October 2014 to August 2015
Project: Angels' Tongues and Witches' Curses: Jewish Women and Ritual Power in Late Antiquity
Externe Website