Dr. Ophira Gamliel is no longer a member of KHK. The information given on this page may therefore be outdated.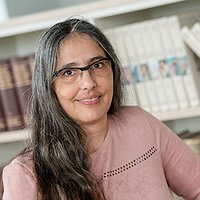 Dr. Ophira Gamliel
KHK Visiting Research Fellow 2015
Former Research Associate JewsEast
KHK Visiting Research Fellow 2015
Former Post-Doctoral Researcher, Asian Studies, The Hebrew University of Jerusalem, Israel
Ophira Gamliel studied Indology and Egyptology at the Hebrew University of Jerusalem in Israel. For her post-doctoral studies, she spent a year in the Department of Malayalam and Kerala Studies at the University of Calicut in Kerala, India. She has worked as an adjunct lecturer, teaching fellow and language instructor at the Hebrew University of Jerusalem and Bar-Ilan University (Ramat-Gan, Israel). Ophira also received numerous research grants and fellowship invitations, of which the most recent was for research on the use of Malayalam language in the Sanskrit theatre of Kerala (under the auspices of David Shulman and Heike Moser).
Ophira's broad research interests vary from linguistics and philology – specializing on Sanskrit and Malayalam language and literature – to performance arts and folklore. She is the author of three books Yogis, Kings and Celestial Women: Translations of Selected Sanskrit Myths (Jerusalem 2001), Shiva in the Forest of Pines: Translations of selected Sanskrit Myths (Jerusalem 1999) and Introduction to Malayalam Grammar (Jerusalem, forthcoming).
As a KHK Visiting Research Fellow, she intends to work on a project entitled "Sensory Devotion and Inter-religious Encounters: Shared Festivals in Kerala (South India)".
Education
Post-Doctoral Studies, The Department of Malayalam and Kerala Studies in the University of Calicut, Kerala, India, 2010
Ph.D., Indian Studies, The Hebrew University of Jerusalem, Israel, 2010
M.A., Indian Studies & Egyptology, The Hebrew University of Jerusalem, Israel, 2002
B.A., Indian Studies & Egyptology, The Hebrew University of Jerusalem, Israel, 2000
KHK Fellowship
Duration: October 2015 to September 2016
Project: Sensory Devotion and Inter-Religious Encounters: Shared Festivals in Kerala