Dr. Maijastina Kahlos is no longer a member of KHK. The information given on this page may therefore be outdated.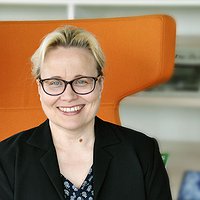 Dr. Maijastina Kahlos
KHK Visiting Research Fellow 2019
Maijastina Kahlos is an historian and a classicist at the University of Helsinki (Finland). Her research interests broadly include the late Roman history, Roman everyday life, religions in the ancient Mediterranean regions, Christianization of the Roman Empire, as well as prejudices, othering and the issues of toleration in the Greco-Roman Antiquity. Since her PhD (1998) Kahlos has worked as a post-doctoral researcher and as a research fellow, funded by the Finnish Academy. She was a research fellow in Helsinki Collegium for Advanced Studies in 2011-2014 and works currently as a research fellow in the Centre of Excellence 'Reason and Religious Recognition', funded by the Academy of Finland. From autumn 2019 onwards, she will be a research fellow in Helsinki Collegium for Advanced Studies, again.
Kahlos is the author of Vettius Agorius Praetextatus: Senatorial Life in Between (Acta Instituti Romani Finlandiae 2002), Debate and Dialogue: Christian and Pagan Cultures, c. 360-430 (Ashgate/Routledge 2007), Forbearance and Compulsion: Rhetoric of Tolerance and Intolerance in Late Antiquity (Duckworth 2009), and Religious Dissent in Late Antiquity (Oxford University Press, forthcoming). She is the editor of The Faces of the other: Religious Rivalry and Ethnic Encounters in the later Roman World (Brepols 2012) and Emperors and the Divine: Rome and its Influence (COLLeGIUM 2016) and the co-editor of Spaces in Late Antiquity: Cultural, Theological and Archaeological Perspectives (Routledge 2016) and Recognition and Religion: Contemporary and Historical Perspectives (Routledge 2019).
Education
MA, history, University of Helsinki, 1991
PhD, Latin language and Roman literature, University of Helsinki, 1998
KHK Fellowship
Duration: April - June 2019
Project: Local Religion Meets the Ideals of the Elite: The Interplay of Rhetoric and Social Realities in Late Antiquity