Prof. Dr. Max Deeg is no longer a member of KHK. The information given on this page may therefore be outdated.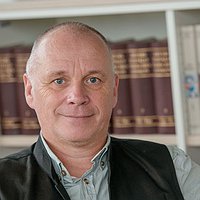 Prof. Dr. Max Deeg
KHK Visiting Research Fellow 2016
KHK Visiting Research Fellow 2016
Full Professor for Buddhist Studies, School of History, Archaeology and Religion,
Cardiff University, Cardiff, Wales, UK
Max Deeg started his studies in Germanic and Scandinavian philology, German linguistics, and Indology (M.A., 1986), followed by his doctoral studies in Indology, Japanese Studies, and History of Religions (Dr. phil. 1990) at University of Würzburg, Germany, where he also received his appointment as an Assistant Professor in 1999 (Dr. phil. habil.). He was full professor of Religious Studies, Faculty of Protestant Theology, University of Vienna from 2002 to 2006. Since 2006, he has been a senior lecturer at the School of Religious and Theological Studies at Cardiff University (UK) and was promoted with a personal chair in 2009.
He is specialized in transcultural Buddhist history, especially in China, India, and Nepal. He is also interested in other religions in the wider Asian context (Hinduism, Jainism, Daoism, Manichaeism, Eastern Christianity) and in the history of research and its impact on academic narratives about Asian religions. During his studies and professions, he has given numerous lectures and has been a visiting research fellow in various projects on Buddhist Studies in Japan, Nepal, the United States, Germany, China, and India. Most recently he has been working on an English translation and extensive commentary of Xuanzang's Datang Xiyu ji (Record of the Western Regions) and a translation and commentary (in German) of the Chinese Christian documents from the Tang period. He is the author and editor of numerous books. His most recent monographs is Miscellanae Nepalicae: Early Chinese Reports on Nepal – The Foundation Legend of Nepal in its Trans-Himalayan Context (Lumbinī, 2016).
Education
Dr. phil. habil., Religious Studies (Religionswissenschaft), University of Würzburg, 1998.
Dr. phil., Indololgy (major), Japanese Studies, History of Religions (minors), University of Würzburg, 1990.
M.A., Germanic and Scandinavian Philology, German Linguistics and Indology, University Würzburg, 1986
KHK Fellowship
Duration: October 2016 to September 2017
Project: The Evolving of the Distinction between Transcendence and Immanence as triggered by Intra- and Interreligious Encounter
External Website