Prof. Dr. Jens-Uwe Hartmann is no longer a member of KHK. The information given on this page may therefore be outdated.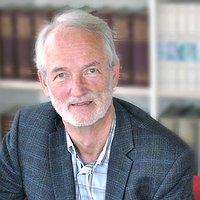 Prof. Dr. Jens-Uwe Hartmann
KHK Visting Research Fellow 2019
Professor of Indology, University of Munich
Jens-Uwe Hartmann is Professor of Indology at the University of Munich. After studying in Munich and Göttingen he held the post of Professor of Tibetology at Humboldt University in Berlin before returning to Munich in 1999. In 2001 he became a full member of the Bavarian Academy of Sciences, and a corresponding member of the Austrian Academy of Sciences in 2007.
He has held visiting appointments at the Collège de France in Paris (2001 and 2004), the Centre for Advanced Study of the Norwegian Academy of Sciences in Oslo (2001–2002), the International College for Advanced Buddhist Studies in Tokyo (2002), the Soka University in Tokyo (2003), the UC Berkeley (2010) and the University of Stanford (2017).
His research centres on the recovery and reconstruction of Indian Buddhist literature on the basis of Indic manuscripts as well as translations into Chinese and Tibetan with a focus on canonical texts and works of poetry. His various authored and coedited works include an edition of the Varṇārhavarṇastotra of Mātṛceṭa (1987), a study of the Dīrghāgama of the Sarvāstivādins (1992), the series Buddhist Manuscripts devoted to the publication of ancient Indic manuscripts from Afghanistan (2000, 2002, 2006, 2016), and From Birch Bark to Digital Data: Recent Advances in Buddhist Manuscript Research (2014).
Education
Habilitation, Indology, University of Göttingen, 1992
Ph.D., Indology, University of Munich, 1984
M.A., Indology, University of Munich, 1977
KHK Fellowship
Duration: May - October 2019
Project: The Formation of Mahāyāna Buddhism