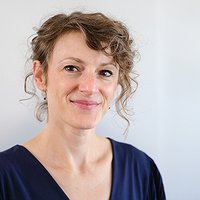 Prof. Dr. Jessie Pons
Junior Professorship for South Asian History of Religion
Junior Professor South Asian History of Religion

Jessie Pons studied history of art, archaeology, Indian studies, and museum studies at the School of Oriental and African Studies (University of London), École du Louvre, and the University of Paris. In 2011, she earned her Ph.D. in art history from the university of Paris-Sorbonne with a thesis on the early Buddhist art from Gandhara. Between 2010 and 2016 she worked as a postdoctoral researcher at the Centre for Religious Studies in Ruhr Universität Bochum and was a KHK Research Fellow (2013-2014). Since January 2016, Jessie Pons has been a Professor for South Asian History of Religions.
Trained as an art historian, she is particularly attentive to the relationship between religion and art and to the role of material objects in religious experiences and the study thereof. The historical region of Gandhara (present-day Pakistan/Afghanistan), located at the crossroads of Asia, is her favourite field for reflection. In her research on Gandhara, she draws upon the results of her doctoral dissertation on the identification and characterisation of sculptural styles to reassess certain problems connected to Buddhism in the region such as networks of communication between Buddhist sites and actors, the emergence of Mahayana Buddhism, instances of instances of cultural and religious interactions and the diffusion of the hagiography of the Buddha.
Jessie Pons has a keen interest in discourses around the preservation of religious material heritage and the appropriation, destruction or reconstruction of religious sites and art objects for shifting ideological purposes. Since 2016, she has been involved in several projects for the digital documentation and preservation of Buddhist artefacts (DiGA, Pelagios Working Group, coordinated with Frederik Elwert) and sought to develop new methods for the study of the history of ancient Buddhism and of South Asian religions in general through artistic expressions.
Office Hours
Areas of Research
Early Buddhism and Buddhist art, Gandharan Studies, Inter-religious encounters in early South Asia, Religion and Art, Preservation of religious sites and objects
Education
Ph.D., History of Art, University of Paris 4, Paris Sorbonne, Paris, France 2011
B.A., Indian Studies, University of Paris 3, Sorbonne Nouvelle, Paris, France 2009
M.Phil., History of Art, University of Paris 4, Paris Sorbonne, Paris, France 2006
M.A., Museum Studies, Louvre School, Paris, France 2005
M.A., Archeology, University of Paris 1, Panthéon Sorbonne, Paris, France 2004
B.A., History of Art, Louvre School, Paris, France 2003
B.A. History of Art and Archeology, School of Oriental and African Studies (SOAS), London, UK 2002
Professional Experience
October 2019. Guest Professor, Centre for the Comparative Studies of Civilizations, Jagiellonian University, Kraków.
April 2014-January 2016. Post-doctoral Researcher (Wissenschaftliche Mitarbeiterin), Ruhr University Bochum, Centre for Religious Studies, Käte Hamburger Kolleg "Dynamics in the History of Religions between Asia and Europe"
April 2013-March 2014. Visiting Research Fellow, Käte Hamburger Kolleg, Ruhr University Bochum.
December 2010-November 2012. Post-doctoral Researcher (Wissenschaftliche Mitarbeiterin), Ruhr University Bochum, Centre for Religious Studies /MERCUR
October 2006-September 2009. Doctoral Researcher (Allocataire de Recherche), University of Paris 4 – Paris Sorbonne, Paris

Introductory Classes (in German or English on demand)
On regular offer
Südasiatische Religionsgeschichte (Vorlesung)
Einführung in hinduistische Religionen (Selbstlektürekurs)
Einführung in Buddhismus (Selbstlektürekurs)
Seminars (in English)
Current Winter Semester 2020-2021
Buddhism in Gandhara: History and Reception
Forthcoming Summer Semester 2021
Archeology of Hinduism (Bachelor & Master)
Past and Present Discourses on Religion and Media in South Asian traditions (Master & PhD)
Past Semesters
Archaeology of Buddhism (Summer Semester 2020)
Gods in South Asian Religions (Winter Semester 2019-2020)
The Buddha´s Biography: Buddhist Pilgrimage in South Asia (Summer Semester 2019)
The Body of the Buddha (Winter Semester 2018-2019)
From Monkey to Buddha: jātaka tales in South Asia (Summer Semester 2018)
Buddhism in Gandhāra: Religious and Cultural Encounters at the Crossroads of Asia (Winter Semester 2017-2018)
Dialogues between Hindus, Buddhists and Jains (Summer Semester 2017)
Women actors in Hindu Narrative and Normative Traditions (Summer Semester 2016)
PhD Supervisions
Percy Arfeen: Transcending Boundaries: Material Culture of Sacred Spaces in Premodern and Early Modern Kerala, South India
Tillo Detige: Eternal Salutations: Early Modern Digambara Jaina Renouncers' Funerary Monuments from Western and Central India