Dr. Iain Sinclair is no longer a member of KHK. The information given on this page may therefore be outdated.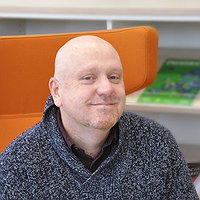 KHK Visiting Research Fellow 2019
Iain Sinclair studies the history, religion and art of the broader South and Southeast Asian region. He reads primary sources in classical languages including Sanskrit, Chinese and Tibetan. In 2016 he received a PhD from the Monash University for his dissertation 'The appearance of Tantric monasticism in Nepal: A history of the public image and fasting ritual of Newar Buddhism, 980-1380'. This dissertation edited the previously unstudied Poṣadhavidhāna and demonstrated for the first time its importance as a link between praxis in the classical, medieval and modern periods.
At the Käte Hamburger Kolleg in Bochum he is studying the formation of Haivajrika tantrism and its connection with the premodern Malayo-Javanese world.
Education
Ph.D., School of Philosophical, Historical and International Studies, Monash University, 2016
M.A. (Hons.), University of Western Sydney, 2000
KHK Fellowship
Duration: October 2019 - March 2020
Project: Spice as Soteriology. The Transcendent signification of 'bola' and 'kakkola'