Dr. Eduard Iricinschi is no longer a member of KHK. The information given on this page may therefore be outdated.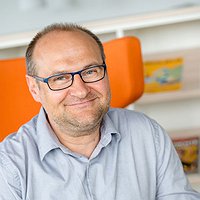 Dr. Eduard Iricinschi
Postdoctoral Researcher KHK
Postdoctoral Researcher since 2016
KHK Visiting Research Fellow 2014
Eduard Iricinschi specializes in early Christian heresiological literature, Manichaeism, the Nag Hammadi literature in late-antique Egypt, the history of ancient Christianity, and methods and theories in the study of religion. He earned his Ph.D. in religion from Princeton University, New Jersey, in 2009, under the direction of Elaine Pagels, with a dissertation on "The Scribes and Readers of Nag Hammadi Codex II: Book Production and Monastic Paideia in Fourth-Century Egypt." Eduard Iricinschi is the co-editor (with Holger Zellentin) of the volume Heresy and Identity in Late Antiquity (Tübingen, 2008); he also co-edited (with Lance Jennot, Nicola Denzey Lewis, and Philippa Townsend) the volume Beyond the Gnostic Gospels: Studies Building on the Work of Elaine Pagels (2013).
During his fellowship at the Käte Hamburger Kolleg, he worked on a project titled "Late Antique Religious Literacies between the Eastern Mediterranean and North-Africa." At the Center for Religious Studies (CERES) of Ruhr University Bochum, he coordinates the focus group "Experience" for the Käte Hamburger Kolleg project on religious contacts. Together with Kianoosh Rezania, Eduard Iricinschi organized a series of three workshops at the Käte Hamburger Kolleg, on the topic of "formative religious exchanges" between Asia and Europe, with a focus on Manichaeism and Zoroastrianism. More information about the workshops here
Education
Ph.D., Religion, Princeton University, Princeton, New Jersey, USA, 2009
M.A., Religion, Princeton University, Princeton, New Jersey, USA, 2006
M.A., Religious Studies, New York University, New York, USA, 2001
M.A. & B.A., Philosophy, Bucharest University, Bucharest, Romania, 1997
KHK Fellowship
Duration: October 2014 to September 2015
Project: Late Antique Religious Literacies between the Eastern Mediterranean and North-Africa
Externe Website