Dr. Cathy Cantwell is no longer a member of KHK. The information given on this page may therefore be outdated.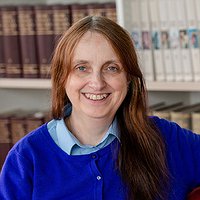 Dr. Cathy Cantwell
Researcher Nyang ral Project
KHK Visiting Research Fellow 2015
Research Officer Buddhist Studies, Faculty of Oriental Studies, University of Oxford, Oxford, UK
Cathy Cantwell studied Social Anthropology at the University of Kent and her doctorate focused on a Tibetan Buddhist monastic community. Since 2002, she has been a member of Faculty at the Oriental Institute, University of Oxford, and is a Member of Wolfson College, Oxford. She is President of the UK Association for Buddhist Studies, and is a Member of the Buddhist Studies Review Editorial Board.
Cathy is a specialist on Tibetan Buddhism. Her work focusses on Tibetan and Himalayan tantric rituals of all periods from the 10th century CE, and especially the ritual texts and practices deriving from the "Early Transmissions" (snga 'gyur rnying ma). This work has included text critical and historical analysis, as well as ethnographic study of contemporary rituals. It has ranged from studies of Dunhuang tantric manuals, critical editing of rNying ma'i rgyud 'bum texts, and the development of cycles of revelatory texts across generations in the modern period.
Her most recent book publications are: A Noble Noose of Methods, the Lotus Garland Synopsis: A Mahāyoga Tantra and its Commentary" (Vienna 2012, together with Robert Mayer), "Buddhism: The Basics" (London 2010) and Early Tibetan Documents on Phur pa from Dunhuang (together with Robert Mayer, Vienna 2008). A jointly edited Special Edition (with Robert Mayer, Jowita Kramer and Stefano Zacchetti) of the Journal of the International Association of Buddhist Studies (Volume 36) is in press, with the title, Authors and Editors in the Literary Traditions of Asian Buddhism.
As KHK Visiting Research Fellow, she is going to work on a twelfth century textual corpus, the bKa' brgyad bde gshegs 'dus pa (Eightfold Buddha Word, Embodying the Sugatas). The tantric Buddhist meditations found in these texts aim at the complete transformation of ordinary bodily, vocal and mental experiences into enlightened body, speech and mind. They became a template for later Tibetan tantric practice traditions, and provide rich material for an exploration of Religion and the Senses in Tibetan context.
Education
Ph.D,"An Ethnographic Account of the Religious Practice in a Tibetan Buddhist Refugee Monastery in Northern India", University of Kent at Canterbury, UK, 1989-1990
B.A. Hons., Social Anthropology, II-I, University of Kent at Canterbury, 1978
KHK-Fellowship
Duration: October 2015 to September 2016
Project: Nyang ral nyi ma 'od zer's (1124-1192) Codifications of Tibetan Tantric Buddhism
External Website