Dr. Anna-Konstanze Schröder is no longer a member of KHK. The information given on this page may therefore be outdated.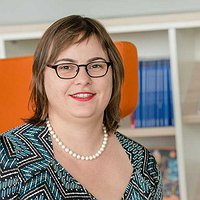 Dr. Anna-Konstanze Schröder
KHK Visiting Research Fellow 2016
KHK Visiting Research Fellow 2016, Research Associate, Workgroup for Empiric Research of Religion (AGER), Department for Theology, University of Bern, Bern, Switzerland
Anna-Konstanze Schröder holds a German Diplom in Psychology (cf. BA and MA, 2006). Concurrently, she majored in the Study of Religion at the universities of Leipzig and Heidelberg (2003-2007). While working as researcher at the Ernst-Moritz-Arndt University in Greifswald, Germany (2007-2013), she spent 3 months as a PhD-exchange scholar at the RCC (Religion, Cognition, and Culture research unit) and CCR (Center for the Study of Contemporary Religion) at Aarhus University, Denmark in 2012. She earned her Ph.D. with a thesis about religious conversion at Leipzig University, Germany (2013). Afterwards, she has been fellow at AGER (Working Group for Empiric Research of Religion) at the University of Bern, Switzerland where she has been employed as post-doctoral researcher in the SNF-project "Xenosophia and xenophobia in and between Abrahamic religions" since 2015.
Her wide research interests include Psychology of Religion/Cognitive Science of Religion (conversion, religiosity, social cognition), religion\s of the seafarers, applied research (especially with regards to interreligious prejudices), empirical methods (attitude measurement, experimental methods) as well as multidisciplinary approaches in the study of religion and theory of science. She is currently working on two research fields: One study is the SNF-funded research about "Xenosophia" between Abrahamic religions in Switzerland which explicitly deals with interreligious encounter between Christians, Jews, Muslims and Atheists in relation to religious and non-religious explanative factors. Her second project about religion/s at sea is her habilitation project. It deals with the questions of the construction of religion in maritime cultures including the distinction of transcendence or immanence and of hybridization processes in the intercultural encounter of seafarers.
As a KHK Visiting Research Fellow, she is going to work on a project titled "Otherness and Seafarers' Religion. Xenosophia in Switzerland and Religion/s at Sea as Empirical Ressources for the Transcendence-Immanence-Distinction Debate"
Education
Dr. phil. (PhD), Religious Studies, Leipzig University, Germany, 2013
Diplom (cf. BA and MA), Psychology, Leipzig University, Germany, 2006
KHK Fellowship
Duration: October 2016 to September 2016
External Website