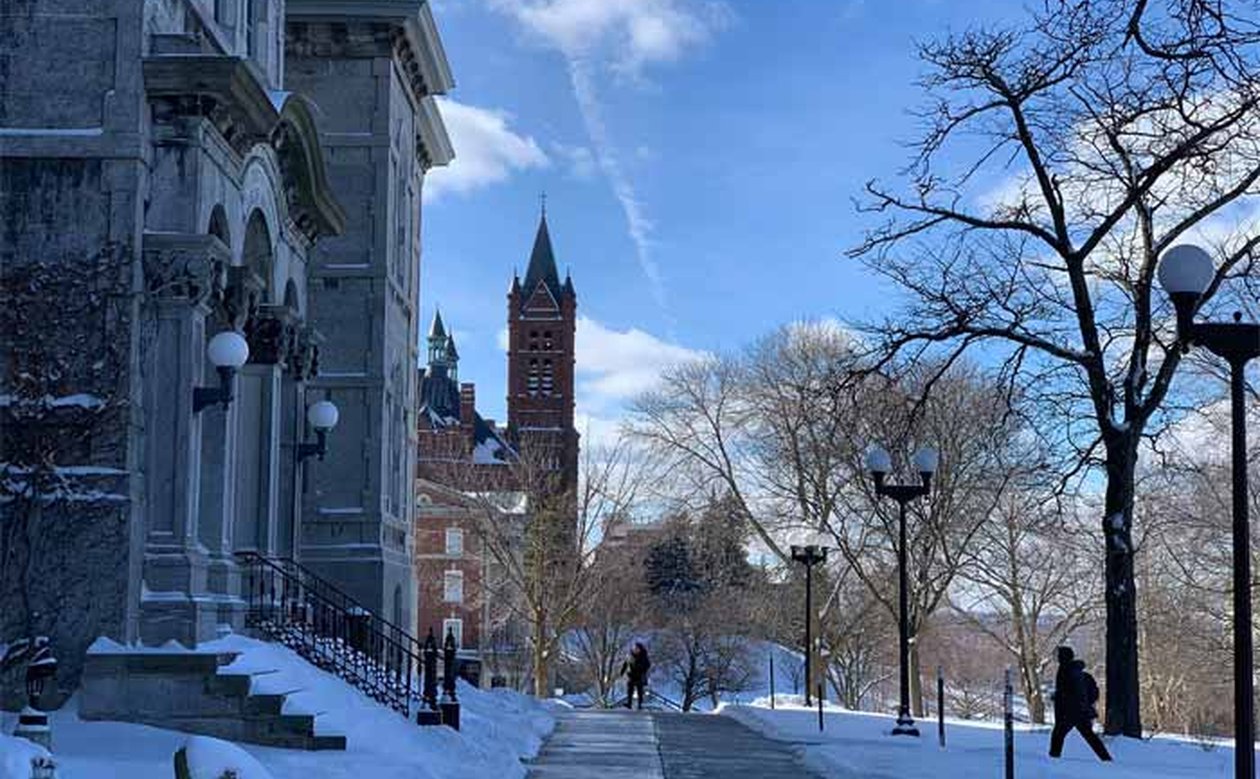 Bochum delegation visits Syracuse
A delegation of Bochum scholars of the Center for Religious Studies (CERES) and the Käte Hamburger Kolleg was welcomed by chilly temperatures and the lake-effect snow in Syracuse in Upstate New York. Since the day before yesterday, the team has been visiting the Syracuse University for several days. CERES and the Department of Religion have been cooperating together in the fields of research, studies and teaching since 2018.
The visit aims to deepen the cooperation and to enable a direct scholarly exchange. Given this, colleagues and postdocs of the Käte Hamburger Kolleg presented their research in a joint workshop. Apart from this, the exchange in teaching and of students shall be stimulated further. In order to pave the way abroad for students of both sides director of CERES Prof. Volkhard Krech and dean of students Dr. Jens Schlamelcher will meet with the partners of the Syracuse University.
The cornerstone of this broad exchange program was laid in the Bochumer Käte Hamburger Kolleg: Syracusan scholar of religion Jim Watts had been a visiting research fellow at the Kolleg in 2015. Subsequent to his affiliation he initiated together with CERES director Volkhard Krech the development of an exchange program between both institutions that includes not only research but also teaching and students.
Besides annual meetings in conferences and workshops, recently the student exchange program was filled with life: John Abercombie, PhD student in Syracuse came to Bochum as first exchange student in Winter term 2018-19. Currently Bochum's PhD candidate Lisa Wevelsiep is visiting the parter institution for her own research. The cooperation especially benefits students from both sides since the partner instiutions complement each other in terms of contents.