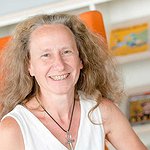 Associate Professor of Ancient Near Eastern Studies (KHK Visiting Research Fellow 2009), Center for Religious Studies (CERES), Ruhr-Universität Bochum, Germany
Rosel Pientka-Hinz studied Assyriology, Archaeology of the Ancient Near East and Semitic Languages at the Universities of Münster and Marburg, where she got her PhD with a thesis on the history of the late Old Babylonian Period. Her Habilitationsschrift presents a descreption of the scorpion in Ancient Near Eastern literature. She was Assistant Professor (1998-2004) and University Lecturer (2004-2010), both at Philipps University's Institute for Near Eastern Studies. She also held a Visiting Professorship at the University of Vienna (2007-2008) and was Substitute Professor for Ancient Near Eastern Studies at Philipps University during the winter term 2004/2005. She is Adjunct Professor (Privatdozentin) of Ancient Near Eastern Studies at CERES since 2015.
KHK Fellowship
Project: "Under a serpent's spell" - Ancient Near Eastern snake cults and conceptions of serpents in the field of intra-religious and inter-religious cultural contacts from the 3rd to the 1st millennium B.C.
Office Hours
Wed 13-14 h (or on appointment)
Areas of Research
Cultural history and religious history ot the Ancient Near East: cult and ritual, humans and the environment, animal symbolism, colour symbolism and body concepts, architecture - The Akkadian and Sumerian textual tradition of the 2nd mill. BC: text editions, literature, (economic, legal and social) history