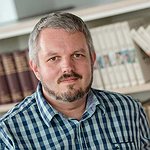 Research Associate in the History of South Asian Religions / Jain Studies since 2017
Lecturer of the InSTUDIES Teaching-Research-Project Between Iconophily and Iconoclasm. On the Role of Images in Religion and Society since 2017
Visiting Jun.-Professor of the History of South Asian Religions 2016-17
KHK Visiting Research Fellow 2016

Patrick Felix Krüger studied Indology, Indian and East Asian Art History at Freie Universität Berlin and the History of South Asia, Tibetan, Mongolian and Islamic Studies at the Humboldt Universität zu Berlin. He graduated in Indian Art History (2009) and received a PhD in Art History of South Asia (2016). Specialized on Religion, Art and Culture of Jainism he is an expert in illustrated manuscripts of medieval and early modern India.
His areas of research include Jainism in ancient, medieval and modern India; History and Art of Hindu religions; Missionary collections and archives; Religion and Museums; Influences of Asian religions on Western esoteric movements during the 19th and 20th century.
Education:
Ph.D., South Asian Art History, Free University Berlin, Germany, 2016
M.A., Indian Art History, East Asian Art History, Freie Universität Berlin and History of South Asia, Islamic Studies, Humboldt-Universität zu Berlin, Germany, 2009
Käte Hamburger Fellowship:
Duration: April to September 2016
Project: The Visualization of the Dharma. New Perspectives of the Origin and the Meaning of the Jina Image and the Beginning of Jain Image Worshipping
Office Hours