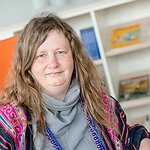 Director of the Käte Hamburger Kolleg Dynamics in the History of Religions
Professor for Jewish Religion in Past and Present Times
Project leader JewsEast & Project leader of the GIF project The Ten Lost Tribes
KHK Visiting Research Fellow 2011
Alexandra Cuffel is professor of Jewish Religion in Past and Present Times at the Center for Religious Studies, Ruhr University Bochum. She received several fellowships, among them a fellowship from the American Council of Learned Societies in 2007, the Women's Studies in Religion Fellowship from Harvard Divinity School in 2006, and a fellowship from the Dorot Foundation at the Hebrew University of Jerusalem in 1996.
Her research focuses on relations between Jews, Christians and Muslims during the Middle Ages, specifically on the intersections of religious polemic, medical theories and gender both in Western Europe and the Middle East. Further research interests are shared saints' cults and festivals in the medieval and early modern Mediterranean and "racial" attitudes in the Middle Ages. She is currently working on a monograph on shared saints and festivals among Jews, Christians and Muslims in the medieval Mediterranean, and, in conjunction with Prof. Dr. Adam Knobler a study of Jewish, Christian, and Muslim imaginings about the ten lost tribes in conjunction with the development of expectations of the Messiah and an anti-Messiah from the early Middle Ages to the nineteenth century.
Education
Ph.D., Medieval History, New York University, New York City, New York, USA, 2002
M.Phil., Medieval History, University of Cambridge, United Kingdom, 1990
B.A., Medieval Studies, Indiana University, Bloomington, Indiana, USA, 1988
KHK Fellowship
Duration: May 2011 - April 2012
Project: Jewish Warriors in Distant Lands
Office Hours
Areas of Research
Jewish, Christian, Muslim relations in the Middle Ages
2018
Cuffel, Alexandra. 2018a. The sea as magical stage: miracles and (un)holy names in the Chronicle of Aḥima'aẓ. In: Ein Meer und seine Heiligen: Hagiographie im mittelalterlichen Mediterraneum, 229–244.
---. 2018b. Coming together in the air: mysticism and the queering of Jesus in the Toledot Yeshu 1. In: Religious boundaries for sex, gender, and corporeality, 145–163.
2016
Cuffel, Alexandra. 2016a. The Judeo-Arabic Toledot Yeshu and its implications for Jewish relations with Christians and Muslims from the Fatimid-Mamluk periods. In: Toledoth Yeshu in context.
---. 2016b. Triple entanglement: a Christian Anti-Biography of Muhammad in a Jewish Anti-Christian Polemic. In: Entangled Hagiographies of the Religious Other.
---. 2016c. From geographical migration to transmigration of souls: negotiating religious difference and space among Jews in Early Modern Safed. In: Locating religions: contact, diversity, and translocality, 64–93.
---. 2016d. From "Convivencia" to competition: conversion and religious polemic between Jews and Christians focusing on Egypt from Fatimid-Mamluk periods. In: Minorities in contact in the Medieval Mediterranean.
---. 2016e. Jewish tribes and women in the Genesis and battle of the Dajjal: Nu'ayim ibn Ḥammād al-Khuzā'ī al-Marwzī's Kitāb al-Fitan. In: Peoples of the apocalypse: eschatological beliefs and political scenarios, 129–146.
Cuffel, Alexandra und Nikolas Jaspert, Hrsg. 2016. Entangled Hagiographies of the Religious Other. Cambridge: Cambridge Scholars.
2015
Cuffel, Alexandra. 2015a. Jesus, the misguided magician: the (re-)emergence of the Toledot Yeshu in Medieval Iberia and its retelling in Ibn Sahula's Fables from the distant past. Henoch 37, Nr. 1: 4–16.
---. 2015b. Judaistik / Jewish studies. In: Handbuch der Mediterranistik: systematische Mittelmeerforschung und disziplinäre Zugänge, 181–196.
---. 2015c. Between epic entertainment and polemical Exegesis: Jesus and the empress Helen as anti-heroes in Toledot Yeshu. In: Medieval exegesis and religious difference: commentary, conflict, and community in the premodern Mediterranean, 155–170.
2014
2013
Cuffel, Alexandra. 2013. Environmental disasters and political dominance in shared festivals and intercessions among medieval muslims, christians and jews. In: Muslims and others in sacred space, 108–145.
2012
2011
2010
Cuffel, Alexandra. 2010a. Menstruation and pilgrimage. In: Encyclopedia of medieval pilgrimage.
---. 2010b. Gender segregation and pilgrimage. In: Encyclopedia of medieval pilgrimage.
2009
Cuffel, Alexandra. 2009a. The matter of Odiers: menstrual blood and uncontrolled semen in Thirteenth-Century Kabbalists' Polemic against Christians, "Bad" Jews, and Muslims. In: Negotiating community and difference in medieval Europe: gender, power, patronage and the authority of religion in Latin Christendom, 249–284.
---. 2009b. Polemicizing women's bathing among Medieval and early modern Muslims and Christians. In: The nature and function of water, baths, bathing, and hygiene from antiquity through the Renaissance, 171–188.
2008
Cuffel, Alexandra. 2008. Between reverence and fear: Jewish Women and Death in Medieval and Early Modern Ashkenaz. In: Women, pain and death: rituals and everyday life on the margins of Europe and beyond, 143–169.
2007
Cuffel, Alexandra. 2007a. Reorienting Christian "Amazons": Christian women warriors in medieval Islamic literature in the context of the crusades. In: Religion, gender, and culture in the pre-modern world, 137–166.
---. 2007b. Excerpts from Murshid al-zuwwār ilā qubūr al-abrār, al-musannā al-Durr al-munaẓẓam fī ziyāra al-jabal al-Muqaṭṭam by Abd al-Rahmān ibn al-Faqih Uthmān on Sayyida Nafīsa. Metamorphoses 15, Nr. 1-2: 138–139.
---. 2007c. Gendering disgust in medieval religious polemic. Notre Dame, Ind.: Univ. of Notre Dame Press.
Cuffel, Alexandra und Brian Britt, Hrsg. 2007. Religion, gender, and culture in the pre-modern world. Religion, culture, critique. New York, NY [u.a.]: Palgrave Macmillan.
2005
2004
Cuffel, Alexandra. 2004. Immaculate conception. In: Dictionary of the Middle Ages: Suppl. 1.
2003
Cuffel, Alexandra. 2003. "Henceforward all generations will call me blessed": Medieval Christian Tales of Non-Christian Marian Veneration.
Mediterranean studies
12: 37–60.
http://www.jstor.org/stable/41166950
.
1999
None
Strotmann, Vivian, Anna Akasoy, Sven Bretfeld, Alexandra Cuffel, Licia Di Giacinto und Zara Pogossian.
Entangled religions
. Hg. von Volkhard Krech. Bochum: Ruhr-Univ.
http://er.ceres.rub.de/
.