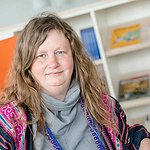 Professor for Jewish Religion in Past and Present Times;
Project leader JewsEast & Project leader of the GIF project The Ten Lost Tribes
Alexandra Cuffel is professor of Jewish Religion in Past and Present Times at the Center for Religious Studies, Ruhr University Bochum. She received several fellowships, among them a fellowship from the American Council of Learned Societies in 2007, the Women's Studies in Religion Fellowship from Harvard Divinity School in 2006, and a fellowship from the Dorot Foundation at the Hebrew University of Jerusalem in 1996.
Her research focuses on relations between Jews, Christians and Muslims during the Middle Ages, specifically on the intersections of religious polemic, medical theories and gender both in Western Europe and the Middle East. Further research interests are shared saints' cults and festivals in the medieval and early modern Mediterranean and "racial" attitudes in the Middle Ages. She is currently working on a monograph on shared saints and festivals among Jews, Christians and Muslims in the medieval Mediterranean, and, in conjunction with Prof. Dr. Adam Knobler a study of Jewish, Christian, and Muslim imaginings about the ten lost tribes in conjunction with the development of expectations of the Messiah and an anti-Messiah from the early Middle Ages to the nineteenth century.
Education
Ph.D., Medieval History, New York University, New York City, New York, USA, 2002
M.Phil., Medieval History, University of Cambridge, United Kingdom, 1990
B.A., Medieval Studies, Indiana University, Bloomington, Indiana, USA, 1988
KHK Fellowship
Duration: May 2011 - April 2012
Office Hours
Areas of Research
Jewish, Christian, Muslim relations in the Middle Ages
2015
Cuffel, Alexandra. "Judaistik / Jewish Studies." Handbuch der Mediterranistik : systematische Mittelmeerforschung und disziplinäre Zugänge 2015 : 181–196. Print. Mittelmeerstudien.
2014
Krech, Volkhard, ed. Entangled Religions : Interdisciplinary Journal for the Study of Religious Contact and Transfer. Bochum: Ruhr-Univ., 2014.
2013
Cuffel, Alexandra. "Environmental Disasters and Political Dominance in Shared Festivals and Intercessions among Medieval Muslims, Christians and Jews." Muslims and Others in Sacred Space. Oxford: Oxford Univ. Press, 2013. 108–145. Print.
2011
Cuffel, Alexandra. "Ibn Sahula's Meshal Ha-Qadmoni as Restorative Polemic." Journal of medieval Iberian studies 3.2 (2011): 165–186.